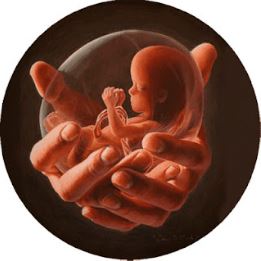 June 27, 2022
Once again, I (Maureen) see a Great Flame that I have come to know as the Heart of God the Father. He says: "Children, turn your attention to praying for the individual states* now, since we have won such a big victory in the Supreme Court.** Do not rest. We have won a big battle, but the war wages on. Many little lives depend on your prayers."

"I was very happy to see so many here*** for the event.**** Nothing you say or decide goes unnoticed by Me. Remember, this war is not about just your opinions, but about each one's decisions for or against life in the womb. Do all you can to influence opinions for life."

Read 1 Thessalonians 1:2-3+

We give thanks to God always for you all, constantly mentioning you in our prayers, remembering before our God and Father your work of faith and labor of love and steadfastness of hope in our Lord Jesus Christ.

+ Scripture verses asked to be read by God the Father.

 

27 de Junio del 2022
Nuevamente veo una gran llama que he llegado a reconocer como el Corazón de Dios Padre. Dice: "Hijos, dirijan su atención ahora a la oración por cada uno de los Estados, ya que hemos ganado una gran victoria en la Suprema Corte. No descansen. Hemos ganado una gran batalla, pero la guerra continúa. Hay muchas pequeñas vidas que dependen de sus oraciones."

"Estuve muy contento viendo tantas personas aquí en el evento. Nada que digan o decidan pasa desapercibido para Mí. Recuerden, esta guerra no se trata solo de sus opiniones, sino se trata de las decisiones de cada persona a favor o en contra de la vida en el vientre materno. Hagan todo lo que puedan para influir en las opiniones por la vida."

Lean 1ª Tesalonicenses 1:2-3




Siempre damos gracias a Dios por todos ustedes, cuando los recordamos en nuestras oraciones, y sin cesar tenemos presente delante de Dios, nuestro Padre, cómo ustedes han manifestado su fe con obras, su amor con fatigas y su esperanza en nuestro Señor Jesucristo con una firme constancia

.
RE: Latest messages are at Holy Love Ministries (www.holylove.org) and Ministerios del Amor Santo (www.amorsanto.com)