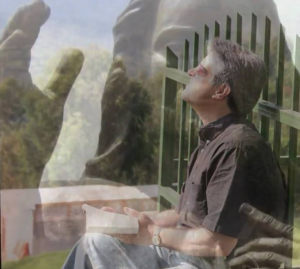 May 23, 2022
Once again, I (Maureen) see a Great Flame that I have come to know as the Heart of God the Father. He says: "While you are still in the world, prepare your souls for Paradise. Hold no grudges in your heart. Forgive everyone – especially those who have done you the most harm. There is no anger or unforgiveness in Heaven – only perfect peace, love and joy. Unforgiveness stands in the way of many untold graces I wish to pour into the world. I cannot pour grace into a heart which is full of unforgiveness, resentment and anger – there is no room. This same unforgiveness promotes terrorism, aggression and persecution, all of which lead to war. Right reason finds no home in the unforgiving heart."

"On the Cross, My Son forgave his enemies. Imitate Him."




Read Luke 23:34+




And Jesus said, "Father, forgive them; for they know not what they do." And they cast lots to divide his garments.




Read 1 John 3:19-22+




By this we shall know that we are of the truth, and reassure our hearts before him whenever our hearts condemn us; for God is greater than our hearts, and he knows everything. Beloved, if our hearts do not condemn us, we have confidence before God; and we receive from him whatever we ask, because we keep his commandments and do what pleases him.




+ Scripture verses asked to be read by God the Father.

 

23 de Mayo del 2022
Nuevamente veo una gran llama que he llegado a reconocer como el Corazón de Dios Padre. Dice: "Mientras sigan en el mundo, preparen sus almas para el Paraíso. No tengan rencores en el corazón. Perdonen a todos, sobre todo a quienes les hayan hecho más daño. En el Cielo no hay ira ni falta de perdón; solo hay paz perfecta, amor y gozo. La falta de perdón se interpone en el camino de muchas gracias incalculables que Yo quiero derramar sobre el mundo. No puedo derramar gracia sobre corazón que está lleno de falta de perdón, de resentimientos y de ira; no hay espacio. Esta misma falta de perdón promueve el terrorismo, la agresión y la persecución, todo lo cual lleva a la guerra. La recta razón no encuentra morada en el corazón que no perdona."

"En la Cruz, Mi Hijo perdonó a Sus enemigos. Imítenlo."

Lean Lucas 23:34




Jesús decía: 'Padre, perdónalos, porque no saben lo que hacen'. Después se repartieron sus vestiduras, sorteándolas entre ellos.

1ª Juan 3:19-22
En esto conoceremos que somos de la verdad, y estaremos tranquilos delante de Dios aunque nuestra conciencia nos reproche algo, porque Dios es más grande que nuestra conciencia y conoce todas las cosas. Queridos míos, si nuestro corazón no nos hace ningún reproche, podemos acercarnos a Dios con plena confianza, y él nos concederá todo cuanto le pidamos, porque cumplimos sus mandamientos y hacemos lo que le agrada.
RE: Latest messages are at Holy Love Ministries (www.holylove.org) and Ministerios del Amor Santo (www.amorsanto.com)