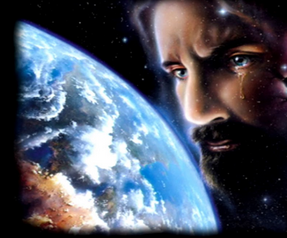 May 22, 2022
Once again, I (Maureen) see a Great Flame that I have come to know as the Heart of God the Father. He says: "Children, in the world there is much opposition to your personal holiness. It is not considered a priority by any means. The things of the world – materialism, reputation, appearance – are all passing, but are represented as all-important. Very often, it is not until the soul's judgment that he realizes what he was created for – his own salvation."

"I urge you, children, to turn away from the temporary joys of the world and make clear the path to your permanent home in Heaven. Pray for your own personal holiness and make this your priority in life. I have prepared a place in Heaven for each soul I create, for in Heaven there is no concept of space. It grieves Me to see how many souls disregard their call to personal holiness as a means of earning Heaven."

"The way to holiness is Holy Love."*

Read 1 John 3:18+
Little children, let us not love in word or speech but in deed and in truth.
+ Scripture verses asked to be read by God the Father.

 

22 de Mayo del 2022
Nuevamente veo una gran llama que he llegado a reconocer como el Corazón de Dios Padre. Dice: "Hijos, existe en el mundo mucha oposición a su santidad personal. De ninguna manera es considera una prioridad. Las cosas del mundo –el materialismo, la reputación, la apariencia– son todas pasajeras, pero son presentadas como de suma importancia. Con mucha frecuencia, es hasta el juicio del alma que se percata para qué fue creada: para su salvación."

"Hijos, los apremio a alejarse de los gozos temporales del mundo y a despejar el sendero a su hogar permanente en el Cielo. Recen pidiendo por su santidad personal y hagan que esto sea su prioridad en la vida. Yo he preparado un lugar en el Cielo para cada alma creada por Mí, pues en el Cielo no hay concepto de espacio. Me aflige ver cómo tantas almas desatienden su llamado a la santidad personal como medio para ganarse el Cielo."

"El camino a la santidad es el Amor Santo."

Lean 1ª Juan 3:18
Hijitos míos, no amemos con la lengua y de palabra, sino con obras y de verdad.
RE: Latest messages are at Holy Love Ministries (www.holylove.org) and Ministerios del Amor Santo (www.amorsanto.com)