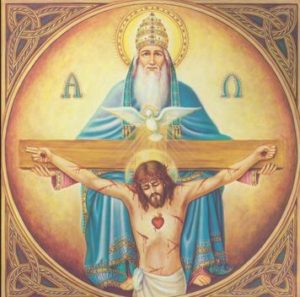 March 18, 2021
Once again, I (Maureen) see a Great Flame that I have come to know as the Heart of God the Father. He says: "Live each present moment for the greater glory of God. When you please others, you are pleasing Me, so long as your actions reflect obedience to My Commandments. Never place self first above the desires of others. Sometimes this requires a martyrdom of your own free will."

"When you glorify Me, I will always come to your aid, even in the smallest matters. To live according to My Will means you do not always look towards your own self-interests, but choose to please Me always by pleasing others. This sometimes requires a heroic surrender of your own self-will. In that surrender, I will reward you."

"Treat your neighbor as you would like to be treated – that is in obedience to Holy Love."

Read James 2:8+

If you really fulfil the royal law, according to the Scripture, "You shall love your neighbor as yourself", you do well.

+ Scripture verses asked to be read by God the Father.

 

18 de Marzo del 2021
Nuevamente veo una gran llama que he llegado a reconocer como el Corazón de Dios Padre. Dice: "Vivan cada momento presente para la mayor gloria de Dios. Cuando ustedes complacen a los demás, me complacen a Mí, siempre y cuando sus acciones reflejen la obediencia a Mis mandamientos. Nunca se antepongan a los deseos de los demás. Algunas veces esto requiere un sacrificio del libre albedrío."

"Cuando ustedes me glorifican, Yo siempre vendré en su ayuda, incluso en los asuntos más pequeños. Vivir conforme a Mi Voluntad significa que ustedes no piensan constantemente en sus propios intereses, sino que siempre eligen agradarme a Mí complaciendo a los demás. A veces esto requiere de una heroica rendición de la voluntad propia. Ante esa rendición, Yo los recompensaré."

"Traten a su prójimo como quisieran ser tratados; es decir, obedeciendo al Amor Santo."

Lean Santiago 2:8




Por lo tanto, si ustedes cumplen la Ley por excelencia que está en la Escritura: Amarás a tu prójimo como a ti mismo, proceden bien.
RE: Latest messages are at Holy Love Ministries (www.holylove.org) and Ministerios del Amor Santo (www.amorsanto.com)