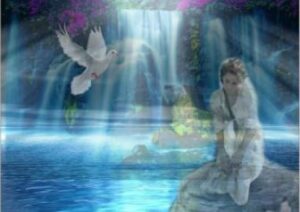 May 10, 2022 ·
Once again, I (Maureen) see a Great Flame that I have come to know as the Heart of God the Father. He says: "Children, share this season with Me. As you watch all of nature come alive, realize that it is by My Hand all of this takes place. Nothing is so beautiful on earth as it is in Heaven, however. It is in Heaven you will experience new colors, fragrances, not to mention My Presence along with My Son's Presence, the Holy Mother* and all the saints and angels. Nothing – no joy on earth – can compare."

"So, children, when you pray, try to place yourself in this heavenly presence where there is no evil, no conflict, only My Holy Will. This is how to pray from the heart."

Read Philippians 4:4-7+

Rejoice in the Lord always; again I will say, Rejoice. Let all men know your forbearance. The Lord is at hand. Have no anxiety about anything, but in everything by prayer and supplication with thanksgiving let your requests be made known to God. And the peace of God, which passes all understanding, will keep your hearts and your minds in Christ Jesus.

+ Scripture verses asked to be read by God the Father.

 

10 de Mayo del 2022
Nuevamente veo una gran llama que he llegado a reconocer como el Corazón de Dios Padre. Dice: "Hijos, compartan esta estación del año Conmigo. Mientras observan cómo va cobrando vida toda la naturaleza, dense cuenta de que todo esto sucede gracias a Mi Mano. Sin embargo, nada es tan hermoso en la tierra como lo es en el Cielo. En el Cielo, ustedes van a experimentar nuevos colores, nuevas fragancias, sin mencionar Mi presencia junto con la de Mi Hijo, la de la Santísima Madre y la de todos los santos y los ángeles. No hay nada –ninguna alegría en la tierra– que se le compare."

"Así que, hijos, cuando recen, intenten situarse ante esta presencia celestial donde no existe ninguna maldad, ningún conflicto, solamente Mi Santa Voluntad. Así es como se reza con el corazón."

Lean Filipenses 4:4-7




Alégrense siempre en el Señor. Vuelvo a insistir, alégrense. Que la bondad de ustedes sea conocida por todos los hombres. El Señor está cerca. No se angustien por nada, y en cualquier circunstancia, recurran a la oración y a la súplica, acompañadas de acción de gracias, para presentar sus peticiones a Dios. Entonces la paz de Dios, que supera todo lo que podemos pensar, tomará bajo su cuidado los corazones y los pensamientos de ustedes en Cristo Jesús.
RE: Latest messages are at Holy Love Ministries (www.holylove.org) and Ministerios del Amor Santo (www.amorsanto.com)