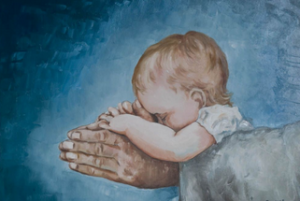 May 8, 2022
The Blessed Virgin Mary says: "Praise be to Jesus."

"Dear children, today as we celebrate motherhood, rejoice with Me as the prospect of abortion being overturned is considered in your nation.* This one act of love would heal the wounds of an otherwise wounded society."

"Understand that Holy Love Ministries** is My Matriarchal touch in a world crying for righteous direction. Believe Me as I repeat what I told you years ago – the nation that reverses its abortion policies would be so greatly blessed."***

"I call you to understand that all of Heaven awaits your nation's decision to stop the murder of the unborn."

Read Leviticus 18:5+
You shall therefore keep my statutes and my ordinances, by doing which a man shall live: I am the LORD.
+ Scripture verses asked to be read by the Blessed Virgin Mary.
* The US Supreme Court is on the verge of overturning the landmark Roe v. Wade abortion ruling.

 

8 de Mayo del 2022
La Santísima Virgen María dice: "Alabado sea Jesús."

"Queridos hijos, hoy, mientras celebramos la maternidad, alégrense Conmigo porque su Nación está considerando la posibilidad de anular el aborto. Tan solo este acto de amor sanaría las heridas de una sociedad por demás dañada."

"Comprendan que los Ministerios del Amor Santo es Mi toque matriarcal en un mundo que clama por una dirección correcta. Créanme cuando repito lo que les dije años atrás: la nación que revierta sus leyes de aborto será muy bendecida."

"Los invito a comprender que todo el Cielo espera la decisión de su Nación para detener el asesinato de los no nacidos."

Lean Levítico 18:15
Ustedes cumplirán mis preceptos y mis leyes, porque el hombre que los cumple vivirá gracias a ellos. Yo soy el Señor.
RE: Latest messages are at Holy Love Ministries (www.holylove.org) and Ministerios del Amor Santo (www.amorsanto.com)