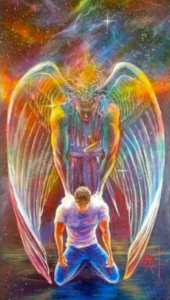 August 28, 2021
Once again, I (Maureen) see a Great Flame that I have come to know as the Heart of God the Father. He says: "Children, your love of My Divine Will is like the walking stick that you lean on to enable you to walk through life more easily. It is there to support you in every circumstance and around each bend in the road. The love you hold in your heart for My Will is very often the reason to move on and forward amidst much opposition.""Prayer and sacrifice held in your heart help you to keep a firm grip on this walking stick amidst every storm or foggy condition. It is your balance amidst any storm of controversy. It lights the way in times of darkness and carries you into the light."

"Lean upon the love you have for My Divine Will and soon I will show you the best of My Will for you."

Read Ephesians 2:8-10+

For by grace you have been saved through faith; and this is not your own doing, it is the gift of God – not because of works, lest any man should boast. For we are his workmanship, created in Christ Jesus for good works, which God prepared beforehand, that we should walk in them.

+ Scripture verses asked to be read by God the Father.

 

28 de Agosto del 2021
Nuevamente veo una gran llama que he llegado a reconocer como el Corazón de Dios Padre. Dice: "Hijos, su amor por Mi Divina Voluntad es como el bastón en el que se apoyan para poder caminar por la vida con más facilidad. Está ahí para apoyarlos en cada circunstancia y en cada curva del camino. Muchas veces, el amor que tienen en su corazón por Mi Voluntad es la razón para continuar y avanzar en medio de tanta oposición.""La oración y el sacrificio que tienen en el corazón los ayuda a sujetar firmemente este bastón en cada tormenta o situación confusa. Es su equilibrio en medio de cualquier tormenta de controversia. Ilumina el camino en los tiempos de oscuridad y los lleva hacia la luz."

"Apóyense en el amor que tienen por Mi Divina Voluntad, y pronto Yo les mostraré lo mejor de Mi Voluntad para ustedes."

Lean Efesios 2:8-10




Porque ustedes han sido salvados por su gracia, mediante la fe. Esto no proviene de ustedes, sino que es un don de Dios; y no es el resultado de las obras, para que nadie se gloríe. Nosotros somos creación suya: fuimos creados en Cristo Jesús, a fin de realizar aquellas buenas obras, que Dios preparó de antemano para que las practicáramos.
RE: Latest messages are at Holy Love Ministries (www.holylove.org) and Ministerios del Amor Santo (www.amorsanto.com)