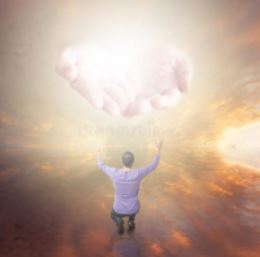 May 21, 2022
Once again, I (Maureen) see a Great Flame that I have come to know as the Heart of God the Father. He says: "The soul who trusts in the direction I am leading him is a most powerful instrument in My Hands. I try to lead every soul – through other people, events in the world and the direction of his salvation. Most folks do not look for My direction or the choices I am urging them to make towards their own salvation and the welfare of the world around them. Most choose what is advantageous to them personally and not what is advantageous to the world or the general public."

"Every choice in each soul's life matters and counts towards the future of the soul's final judgment and the future of the world. Many small decisions combine to move the general population in a particular direction. Take, for instance, the sin of abortion. The general feel for 'freedom of choice' has skewed the future by aborting those who could have changed the whole world. What seems like an individual right changes the world forever. Every sin changes lives and the world around you."

"Be a strong instrument in My Hands by merit of your trust in Me through obedience to My Commandments.* Your trust in this – My Call to you – can change hearts and the world around you."

Read Psalm 13:5-6+

But I have trusted in your merciful love; my heart shall rejoice in your salvation. I will sing to the LORD, because he has dealt bountifully with me.

+ Scripture verses asked to be read by God the Father.

 

21 de Mayo del 2022
Nuevamente veo una gran llama que he llegado a reconocer como el Corazón de Dios Padre. Dice: "El alma que confía en la dirección por la que la guío es un instrumento muy poderoso en Mis Manos. Yo intento guiar a todas las almas en dirección a su salvación a través de otras personas y de los acontecimientos en el mundo. La mayoría de las personas no busca Mi dirección o las decisiones que los apremio a tomar en aras de su propia salvación y del bienestar del mundo a su alrededor. La mayoría elige lo que es más favorable para ellos en lo personal y no lo que es favorable para el mundo o para las personas en general."

"Cada decisión en la vida de cada alma importa y cuenta para el futuro del juicio final del alma y para el futuro del mundo. Muchas decisiones pequeñas se combinan para mover a la población en general hacia una dirección en particular. Tomen como ejemplo el pecado del aborto. El sentimiento general de 'libertad de elección' ha desequilibrado el futuro al abortar a quienes podrían haber cambiado el mundo entero. Lo que parece un derecho individual cambia el mundo para siempre. Cada pecado cambia vidas y cambia el mundo a su alrededor."

"Sean instrumentos fuertes en Mis Manos gracias a su confianza en Mí a través de la obediencia a Mis mandamientos. Su confianza en esto –en Mi llamado a ustedes– puede cambiar corazones y el mundo a su alrededor."

Lean Salmo 13:6
Yo confío en tu misericordia: que mi corazón se alegre porque me salvaste. ¡Cantaré al Señor porque me ha favorecido!
RE: Latest messages are at Holy Love Ministries (www.holylove.org) and Ministerios del Amor Santo (www.amorsanto.com)