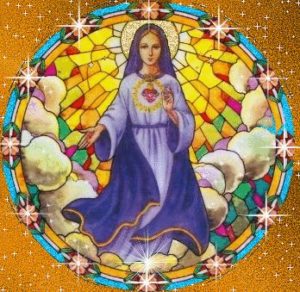 Mary, Refuge of Holy Love
Feast of Mary, Refuge of Holy Love – 25th Anniversary
May 5, 2022
Our Lady is here as Refuge of Holy Love.* She says: "Praise be to Jesus."

"Dear children, I come today, once again, to offer you the hospice of My Immaculate Heart, which is the First Chamber** of the United Hearts. Herein find your respite from the sorrows of the world. Seek this Chamber where you can clearly define good from evil. This Chamber is the strength you need to pursue a closer relationship with Me. I will protect you from the concerns of the world herein."

"I am forever your Refuge when you seek Me. It is in the confines of My Heart you are clearly shown good versus evil. This is where your angel meets you and helps you to choose righteousness. My Heart makes transparent right from wrong. The soul cannot advance in holiness until he passes through the conviction of My Immaculate Heart – Refuge of Holy Love."

"Journey of personal holiness begins with My Refuge of Holy Love – My Heart – and a title which – after controversy – will be recognized."
Read Romans 16:17-18+
I appeal to you, brethren, to take note of those who create dissensions and difficulties, in opposition to the doctrine which you have been taught; avoid them. For such persons do not serve our Lord Christ, but their own appetites, and by fair and flattering words they deceive the hearts of the simple-minded.

+ Scripture verses asked to be read by Mary, Refuge of Holy Love.

 

5 de Mayo del 2022
Fiesta de María Refugio del Amor Santo
XXV Aniversario
Nuestra Señora está aquí como Refugio del Amor Santo. Dice: "Alabado sea Jesús."

"Queridos hijos, vengo hoy nuevamente para ofrecerles el refugio de Mi Inmaculado Corazón, el cual es el Primer Aposento de los Corazones Unidos. En este refugio ustedes encuentran alivio a las penas del mundo. Busquen este Aposento en donde claramente podrán distinguir el bien del mal. Este Aposento es la fuerza que necesitan para buscar una relación más cercana Conmigo. Aquí, Yo los protegeré de las preocupaciones del mundo."

"Yo soy siempre su refugio cuando me buscan. En los confines de Mi Corazón se les muestra claramente el bien contra el mal. Aquí es donde los encuentra su ángel y los ayuda para que elijan la rectitud. Mi Corazón hace transparente lo bueno de lo malo. El alma no puede avanzar en la santidad si no pasa por la convicción de Mi Inmaculado Corazón, el Refugio del Amor Santo."

"El viaje de la santidad personal inicia en Mi Refugio del Amor Santo, en Mi Corazón, y es una advocación que, luego de la controversia, será reconocida."

Romanos 16:17-18
Les ruego, hermanos, que se cuiden de los que provocan disensiones y escándalos, contrariamente a la enseñanza que ustedes han recibido. Eviten su trato, porque ellos no sirven a nuestro Señor Jesucristo, sino a su propio interés, seduciendo a los simples con palabras suaves y aduladoras.
RE: Latest messages are at Holy Love Ministries (www.holylove.org) and Ministerios del Amor Santo (www.amorsanto.com)